Are you looking for office interior design?  Pure Office Solutions Ltd are specialists in everything from creating feature walls, to painting and decorating to the supply of office furniture to fully coordinate and complement.
Your office interior design should express your company's origins and values. Exclusive office feature walls are a simple and effective way to express the company's values and personality in its office space. We can also supply you with all the décor for your office such as office seating to add the finishing touches to your office interior decoration.
At Pure Office Solutions, we are extremely passionate about creating the right image for our clients. Our design team will inspire you with ideas and new techniques and help you to choose from a huge array of colours and finishes. Our office interior decoration will create the best vibrant working environment to help inspire your staff and employees.
The full office interior range consists of partition walls, glass walls, plasterboard office fit outs and frameless glazed partitions, all with an extended variety of vinyl finishes, paint colours and timber or glass doors. Our room divider doors can be fitted on a partition screen or any other of our room separator services. They allow easy access into a room and let a room have a bit more privacy. Read more about the different partition walls that we offer below.
Office Interior Design from Pure Office Solutions
Painting and Decorating Services
Here at Pure Office Solutions we provide general painting and decorating services to all commercial sectors. From show-stopping feature walls to just a lick of paint to refresh your walls.
Our team of experienced painters and decorators work tirelessly to promptly and efficiently complete their work with minimal impact on your business.
We can provide the paint and/or wallpaper so all you need to do is decide on the colour! With Pure Office Solutions, you can guarantee the highest level of quality office interior decoration.
Office Interior Design Services
Designed for simplicity, aluminum framed partition walls are quickly demountable and re-installed. This ensures minimal site disruption to any location. The patition walls have a high fire resistance and acoustic performance.
A framework of aluminium studs clad with plasterboard is used for solid modules combined with our factory manufactured steel framed door and pre-glazed window units, with the option of integral blinds.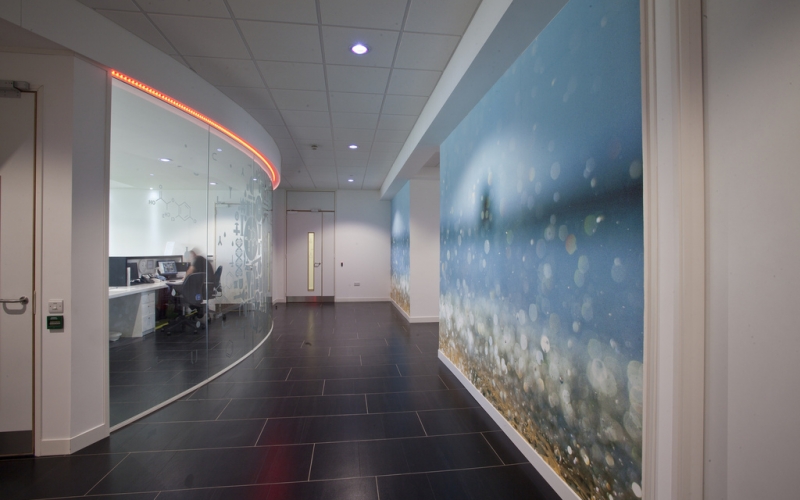 Unique and eye-catching office feature walls are a simple and cost-effective way to express the company's personality in its office space. It's an easy way to give the office a facelift. You can use photos, company logos or slogans for your office feature wall.
With a fresh office interior decoration, you can give your office a unique atmosphere that can be fun, informative, inspirational and motivational. These office feature walls can reflect the company's origins, values and create a focal point. Feature Logos and colour schemes reinforce Corporate branding, and our office design specialists can make this happen for you.
We offer more than 2.5 million possible items of bespoke office furniture – but we appreciate that there are still occasions where, for example, only a variation on a standard desk, a space saving desk, an entirely bespoke conference table to ergonomic seating or a reception counter that will meet your needs.
We have a dedicated "specials" department that provides a comprehensive service to design and manufacture custom items of office furniture.
Office Furniture & Seating
Air Conditioning & Heating
Internal Partition Systems