Pure Office Solutions Ltd is a premier supplier of office furniture for people who demand high quality, timeless good looks and a comprehensive palette of components to meet their every need.
We have partnered with some of the biggest office furniture suppliers in the UK including Sven and Boss to provide you with the very best in quality and choice.
All our desks are available in a variety of finishes, sizes and styles to suit all budgets, from cost-effective stocked items to superior made-to-order desks with an impressive 5-year guarantee.
Each desk has a variety of matching pieces, including, screens, extensions, pedestals and storage cupboards. We also offer space-saving desks and reception desks for smaller offices and your practicality.
Bench Desks are designed to utilise as much of the available space as possible by using common elements such as legs and cable towers.
How Bench Desk Systems Work PDF
This makes them popular in open plan offices and smaller offices where space is limited. Bench desks are easily reconfigurable and can be easily added to. There is no limit to the overall length of a bench the only limitation is the space available.
For height adjustable bench desks please see our Ergonomic Solutions section.
All our desks are available in a variety of finishes, sizes and styles to suit all budgets.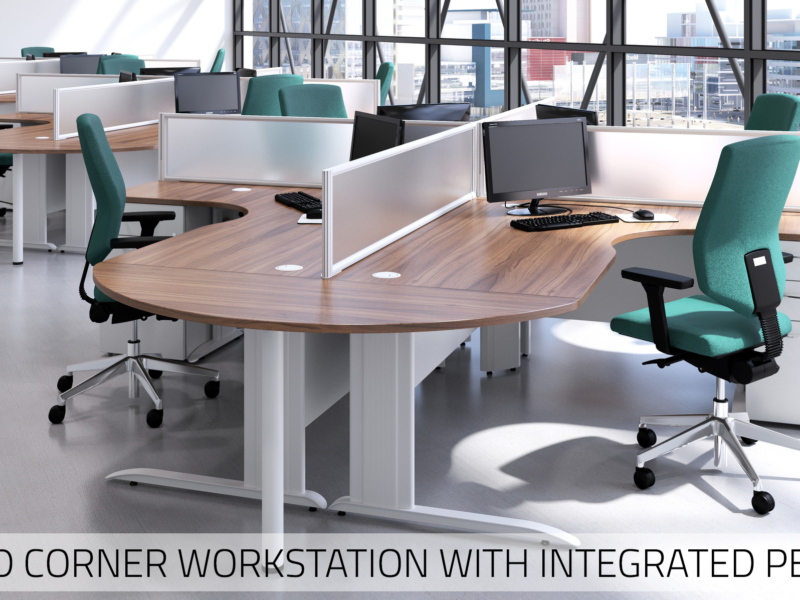 Pure Office Solutions Ltd offer a huge range of freestanding desks in different shapes and sizes, enabling you to find the very best solution. Available on both metal frames and timber panel ends.
Our desk portfolio includes:

RECTANGULAR DESKS
Size Options: 800, 1000, 1200, 1400, 1600, 1800 or 2000 x 800mm
WAVE DESKS
Size Options: 1200, 1400, 1600 or 1800 x 800/1000mm
CORNER DESKS
Size Options: 1400, 1600, 1800 or 2000 x 1200/800mm
Corner desks are also available with integrated pedestals if required.
120 DEGREE DESKS
Size Options:
1000 x 1000 or 1200 x 1200 (workstation with integrated pedestal)
Looking for a different size? We maybe able to have a desk manufactured to any size required. Please contact us for more details.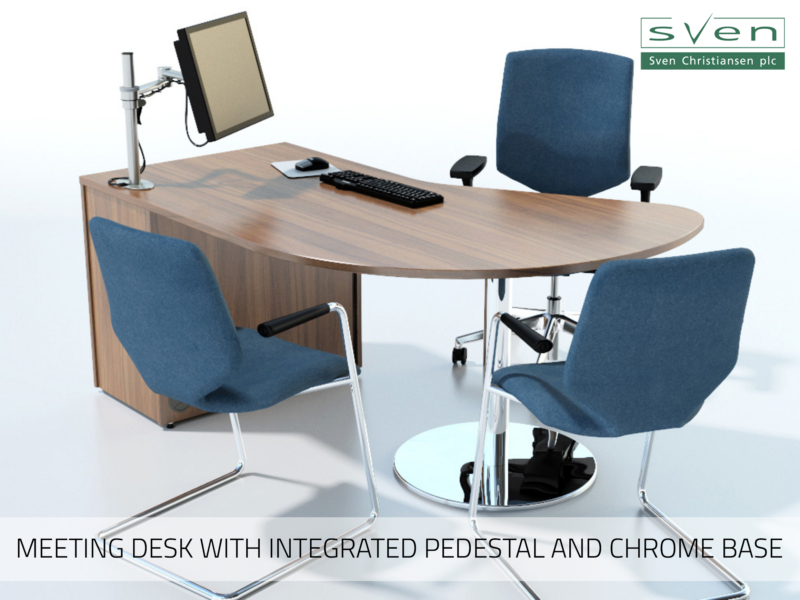 Specialised desks with a shaped top allowing people to sit comfortably on both sides. Available in 1500mm and 1700mm widths with an integral pedestal.
Ideal for customer-facing application such as estate agencies or car sales showrooms, for discussions between the user and one or two visitors.
The standard tapered legs may be replaced with a single Polished Chrome pedestal base if preferred.
All desks (excluding sliding tops and Boss desks) have 80mm diameter cable ports in the tops, either in Zinc, White or Slate plastic, or optionally in Polished Chrome.
Metal frame desks incorporate vertical cable management within the frames and can route cables between adjacent desks as standard: panel end desks may have vertical cable management on the inside of the panel ends and cable pass-through ports as options.
Cable trays may be fitted to the inside of modesty panels to provide horizontal cable routing and support for sockets. Flexible cable spines provide an additional option for vertical cable routing and desktop mounted sockets can be specified to provide instant access to power and data connections.
For use adjacent to or under desks and tables. All pedestals incorporate side drawer pulls and may optionally be fitted with any of three handle styles. All drawers are fitted with heavy duty ball bearing 100% extension runners.
Conference And Boardrooms
Restaurant, Cafe & Social Spaces